Home
The site you want
without limitations
Stackbit is a visual experience platform, for teams building and operating enterprise websites, with a composable headless tech stack.
#better #faster #together #stackbit
Learn how our customers and their amazing brands are bridging the visual editing gap, and maximizing their investments in headless platforms and digital transformation with Stackbit.
Build with a modern tech stack
Built with you in mind
Most site builders are optimized for one type of user. We shouldn't need to choose a platform based on whether we identify as developers, designers, marketers, no-coders, or low-coders.
People building websites have come to expect a pleasing and intuitive visual editing experience, as evidenced by the success of Squarespace, Wix, Webflow, and others. At the same time, the success of patterns and tools like Jamstack, React, Next.js, and Tailwind have shown us that people developing websites demand a smooth developer experience.
Instead of working on another site builder for a narrow segment of users, we realized the opportunity to create an unparalleled experience for developers and non-developers building great websites together.
The team.
Yes we're editing in-place
A Stackbit website is a git repo that you own. Every code commit is instantly reflected in the visual editor and since every visual edit is a git commit, git workflows and collaboration just work.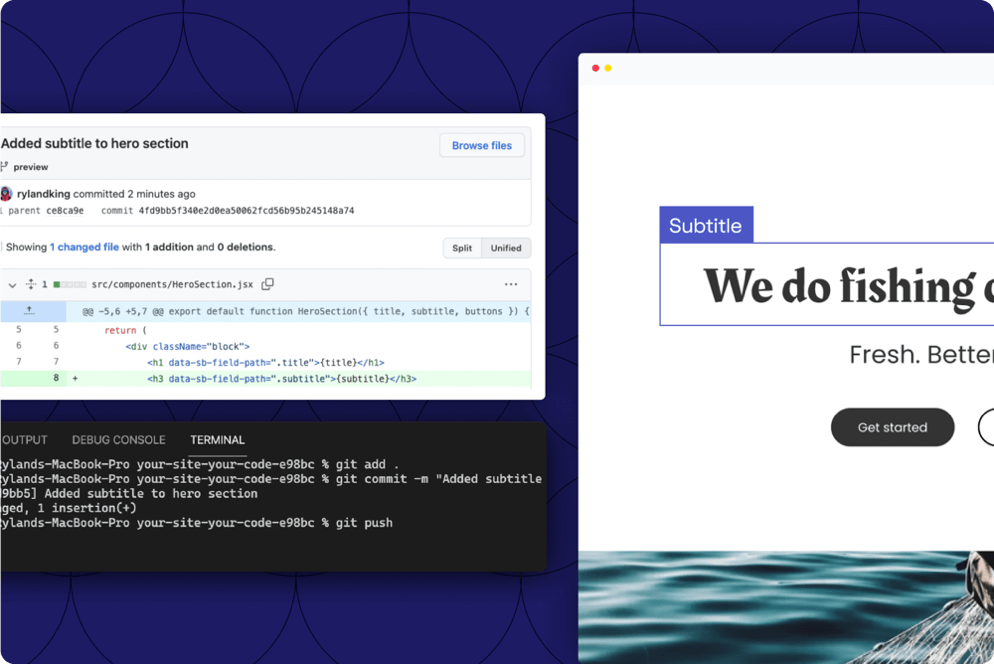 Visually Unlimited.
Our world-class visual editing experience is fast, intuitive, and powerful. WYSIWYG in-place editing, reusable components, layouts, variations, styling, media, and more. Everything you've come to expect from a modern visual site builder. Move fast without developer help or having to worry about breaking anything.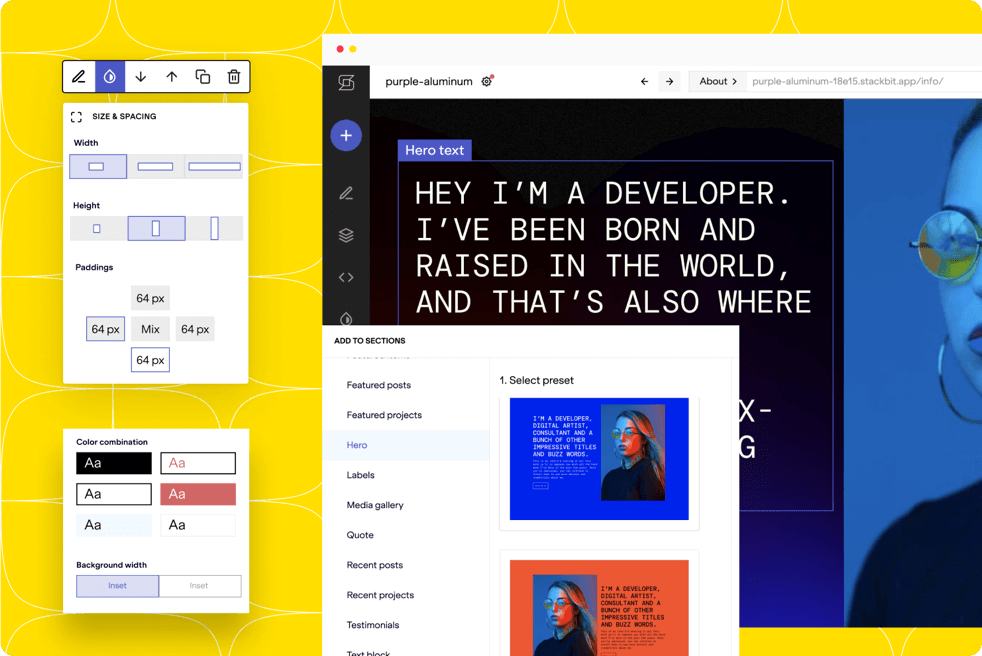 Try it yourself
Select a starter template. Modify your code whenever.
Fully Configurable and Customizable.
As a general-purpose site builder, Stackbit lets you bring your own code, components, styles, and workflows. Stackbit is configurable to fit into your existing workflows. Work the way you want to with the tools, content platforms, and services you're already using - no matter how many pages, editors, developers, or websites are involved.
We know you're dying to know
Learn how Stackbit works and what we're doing behind the scenes.
We're here to help
Follow the tutorial to build your first Stackbit site
Join the community
We're on Discord! Follow us to stay up to date with everything Stackbit.
Web development at scale
"It takes me 10 times less than usual to create a page now that we use Stackbit — it's a game-changer. Basically, anyone who is using Contentful and has a design system should be using it."
Let's discuss your project
Request a free demo to see how Stackbit may accelerate your organization's site creation and ongoing maintanance.