When Newtopia onboards new companies to its platform, it shares a landing page with the company's employees to engage them.
When Alfredo Morales, VP of Product, took ownership of these landing pages he quickly noticed two big problems:
Any change, no matter how small, depended on Newtopia's development team to be published.

Their development team had higher priority tasks than marketing requests. This caused a lengthy backlog of website changes and over time their website had become stale and outdated.
Here's how Alfredo and Newtopia fixed these problems with Stackbit.
Marketer-Developer Bottleneck
Before Stackbit, Newtopia's website and landing pages were custom-built. Updating content, adding new sections, and building new pages all required a lot of programming.
Every time the marketing team wanted to change anything, like the look and feel of a page, it was a huge project for the programming team.
If the marketing team wanted to update an image, it was put in a development task queue. All too often other development tasks would take precedence. This caused the small update to take months to publish.
The ability for Newtopia to reach out and engage consumers to become part of their program is a primary driver of their business. So the inability to iterate upon their website caused their landing pages to become stale and outdated, and also brought about internal dissatisfaction.
It was frustrating for the development team to have me pushing simple changes on them all the time. And it was very frustrating for the marketing team to hear that it will take such a long time to get something that is simple accomplished.
Wanting To Use Headless Architecture, But Needing Visual Page Building
A lot of this dependence on development to publish websites and apges was because Newtopia's old site's code and content were tied together. Alfredo went out looking for solutions that decoupled content from code and made marketing self-sufficient.
As they reviewed different headless CMSes they found each CMS' form-like UI hard to navigate and use. It made them wonder if they could achieve their main requirement — building new pages without requiring intervention from the development team.
That's when one of the headless CMSes recommended Newtopia view Stackbit.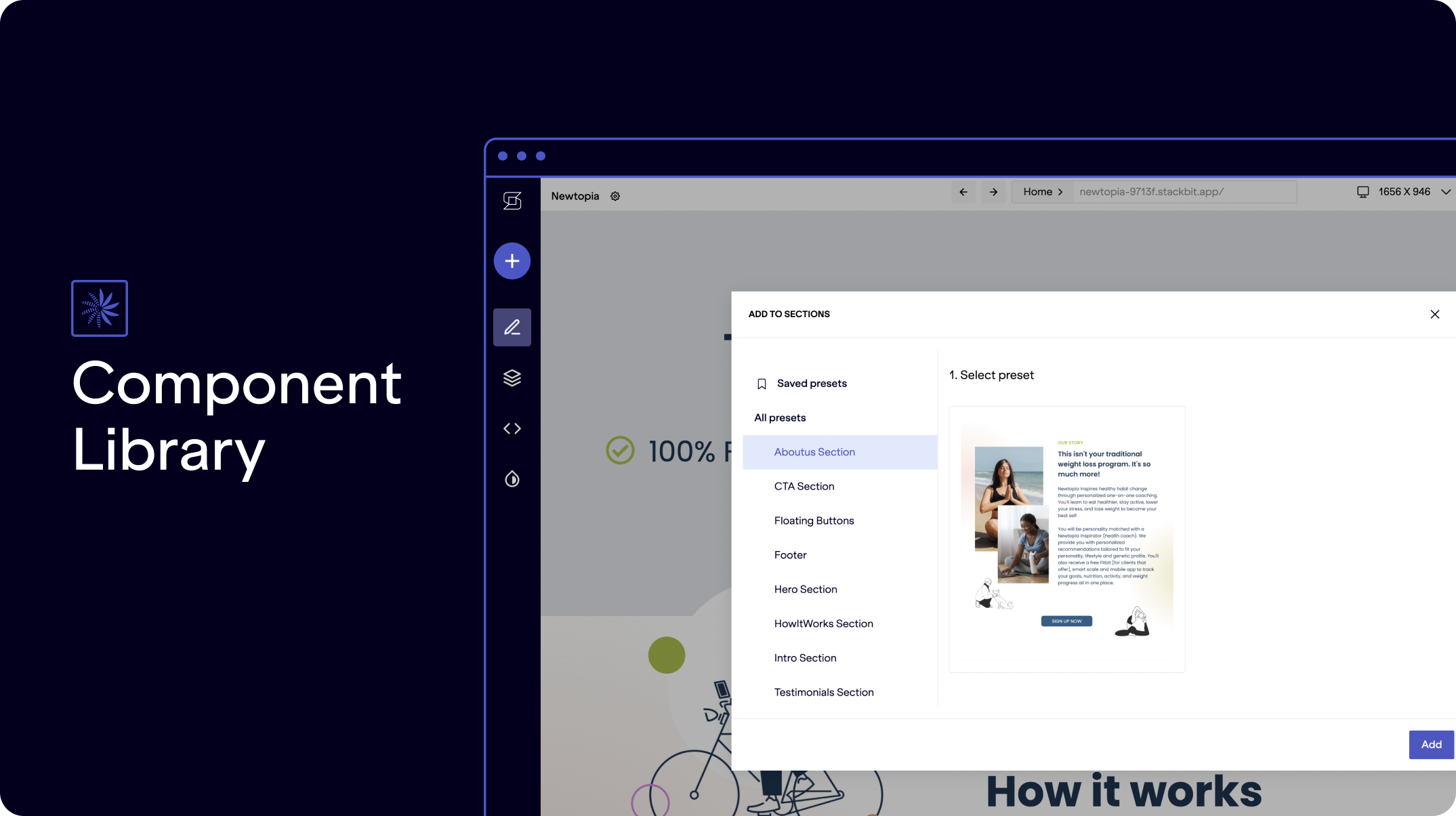 Using One of Stackbit's Implementation Partners
When Newtopia approached Stackbit, they didn't have an in-house development team that would build their new website. With Stackbit that's not a problem. We paired Newtopia with an implementation partner, Novvum, who matched their needs and the build experience was great.
We had a very high level of requirements and our implementation partner did a terrific job. They were a great fit for us.
Newtopia even had a requirement for a custom CI/CD pipeline and the partner had no problem building it and connecting it to Stackbit so Newtopia's marketers could publish changes on their command.
Newtopia Is 7x Faster With Stackbit
With Stackbit, Newtopia's marketers have full control and are shipping changes 7X faster than before.
With our old site a simple change might have taken a week. With Stackbit that same change is completed within a day.
Beyond that speed, the next best part is that no one from the Newtopia development team has to be involved. Marketing can update text, swap images, and now even adjust styles and layouts on components completely autonomously. And because of how the implementation partner built the content model, all the styling changes (colors, layouts, etc) always stick to Newoptia's brand guidelines.
With Stackbit, Newtopia has given its marketing team the ability to run the marketing business exactly how they want to.